Warehouse floor line painting and location numbering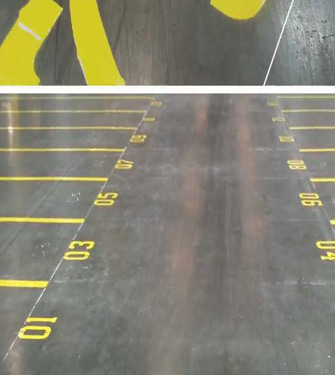 Warehouse floor line painting
Warehouse floor line painting is neither just a simple line on the floors nor easy to draw, it is a tactic to maintain your space with which you can use more space and can improve safety of your warehouse areas. It is also called as a safety line which is the cheapest and easiest way to maintain your warehouse space.
You can have numerous options for Warehouse floor line painting, some of the famous options are: Water based Paint, Oil Based Paints, Urethane Enamel, Epoxy Coatings Sealed with Urethane, Standard Paint, and more.
You can choose color as per your floors or your requirements though Yellow is the most common color to use for lining but you can also use white, red, orange, green, blue, black, and more also you can use double colors like black & yellow, black & white, red & white and more.
Location numbering in warehouses
Location numbering system is used for identify specific storage and pick locations which makes easy for your employee or even you to remember the locations. By using unique location numbering system you can save your money and employee time.
Since 1960, Facility cleaning is on mission to give client phenomenal & sensational services, we have a professional technician team that has vast experience of warehouse floor painting and location numbering. We are the professional, economical and most trusted in industry by our services.
If you have any query regarding to warehouse floor line painting & location numbering you can call us at anytime, our support team is eager to help you.
Our service areas are Toronto, Etobicoke, Mississauga, Brampton, Bolton, and Oakville.
For more information you can email at [email protected] or call us (416) 806-8956 or fax (905) 792-2369