Overhead Cleaning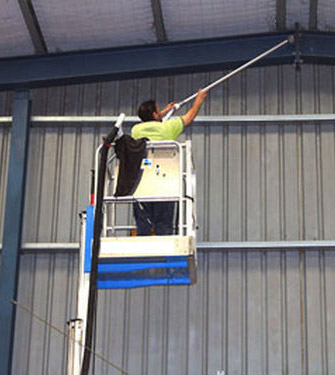 Professional cleaning for industry's hard to clean heights
Overhead cleaning is one of the tough jobs to do and it is the areas which are not clean until a problem arises, it collects dust & flying debris early, so it is vital to clean overhead regularly.
Facility cleaning is well known by its Overhead cleaning services, our professional, experienced & qualified team is flexible and can work in any environment to meet our clients need. Our safe, reliable & economical services provide a big smile of satisfaction on our customers face.
Some of the cleaning methods used for overhead cleaning by Facility cleaning are: Vacuuming, Brushing, Hand washing, Blowing, Steam cleaning, Chemical Cleaning, Pressure wash, and more.
The areas covered in our Overhead Cleaning are: High Rafters Cleaning, Overhead Cleaning with Pipes, Overhead Dust Cleaning, Ductwork, Structural Steel, Unit Heaters Cleaning, Fans Cleaning, Light Fixtures Cleaning, Hanging Lights Cleaning, Ceiling Plenums Cleaning, Walls Cleaning, and other Overhead Structures, etc.
Our services are most respected in the food industries, manufacturing units & industrial areas.
Feel free to contact us at any time, our support team is always ready to help you.
Our service areas are Toronto, Etobicoke, Mississauga, Brampton, Bolton, and Oakville.
For more information you can email at [email protected] or call us (416) 806-8956 or fax (905) 792-2369